Superintendent Message October 2016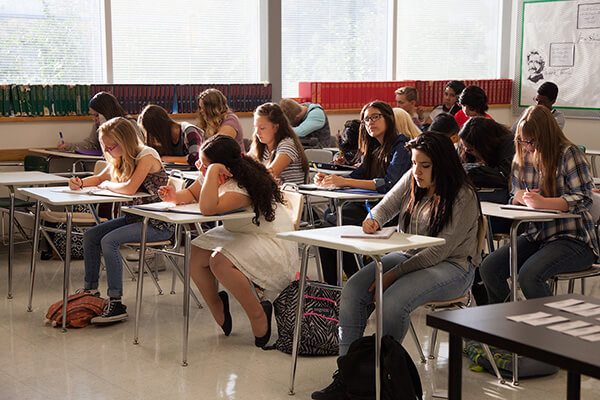 This is my first column of the 2016-2017 school year. It has already been a very busy year and we are only in the first part of October.
One of my priorities again this year is to visit every classroom throughout the district at least once. I accomplished this goal in my first year in the district (2013-2014) and I found it to be a very beneficial exercise. It is, however, very difficult to accomplish, given the moving variables of changing schedules, illnesses, prep times, alternating day class schedules, etc. Nevertheless, it is an appropriate goal. It is wonderful to interact with hard-working teachers and students. My visits also afford me a perspective on what kinds of support and leadership I must provide to further advance teaching and learning in the district. I am genuinely enjoying being in classrooms again throughout the district.
This is the beginning of my fifth school year in Provo City School District. I have made some significant changes and adjustments to the district office staff in my years here. Some new positions have been created and some others have been eliminated. Perhaps some in the community might wonder where we stand in relation to higher or lower administrative costs compared to when I arrived.
In recent months I asked my senior administration to conduct an internal review of staffing numbers and costs at the district office compared to the 2012-2013 school year. The district Business and Human Resources departments took the lead in gathering this information, with additional input from a variety of department heads. At that time Provo City School District had an enrollment of 13,800 students, including about 500 in e-School. For 2015-2016 the district had over 15,000 students, not including e-School that had approximately 3,200 additional students for an overall district total of well over 18,000 students. Despite such strong growth in student enrollments, significant efficiencies were found:
Even with the addition of a new Executive Director of Secondary Education (new for 2016-2017) and a slight expansion of the Communications office, 2016-2017 district office administrative positions are down a net 2 positions from 2012-2013.
All district office employees received the same percentage raises as teachers and other employees throughout the district. Not counting the raises that in the district are a cost of doing business, overall district office salary costs net less than $150,000 above the district office salaries in 2012-2013. Usually, more students will equate with the need to generate more support positions at the district level, along with added teachers. Considering that many districts likely would have increased district office positions and costs commensurate with such a strong change in student enrollments, I believe this is encouraging news.
The approximate $150,000 net additional costs are largely due to three main elements: the added secondary education position, added support in the Communications office (both of these are board priorities), and equalization of unequal pay for individuals possessing the same job titles.
We will continue to carefully watch our expenditures. Again, with more and more students, along with increasing compliance demands from state and federal governments, we need to find the right balance between operating a lean district vs. providing the needed and mandatory supports for our students, staff, and schools.
Recently, school grades were assigned based on performance on the SAGE test, a high stakes state assessment. Schools and districts throughout the state were disappointed that the initial grades were adjusted downward. Provo City School District schools suffered the same fate. The following table depicts the grades we expected our schools to receive vs. the grades issued once the minimum bar was raised.
| | Expected Grade | Awarded Grade |
| --- | --- | --- |
| A | 10 | 3 |
| B | 4 | 10 |
| C | 4 | 4 |
| D | 0 | 1 |
| F | 0 | 0 |
This process is frustrating for teachers, students, and parents in the district and across the state. I do not understand why there seems to be an effort by some to continually change the rules, making it harder and harder for teachers and schools to receive well-earned recognitions. We work hard to hit any and every target the state will hold still long enough.
Also, please see below the district scores for the ACT tests administered during the 2015-2016 school year. This data is also encouraging in terms of growth from the prior years as well as growth in contrast to the state scores. The following table is from the official ACT report issued each August.

I readily accept that there is always room for improvement. While much of our student achievement data is headed strongly in the right direction, we are committed to providing the very best for our students in their learning endeavors and needs. The hard work continues. I truly appreciate the dedication of our staff as they perform at increasingly high levels for the students of the district.
Thanks for your ongoing support and interest in Provo City School District.
Keith C. Rittel
Superintendent