Provo City School District
Provo City School District Announcements
District News & Events
The latest news from Provo City School District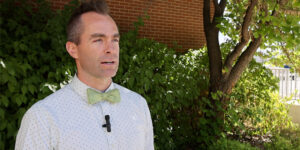 Safety and Security I Love U Guys Protocol: Secure
Welcome back to our Safety and Security Campaign. If you're unfamiliar with the Campaign, or what I Love you Guys means, please check out the I Love U Guys overview article and campaign overview video and come back soon.
To recap, we're looking at the "I Love U Guys" standard response protocols, offering insights on how school staff is continuously preparing for critical response, and sharing information on how you and your students can better prepare for the unexpected. You can find the "Evacuate" and "Shelter" protocol videos and articles here.
This week we're covering "Secure." Before we review the symbol, signs, and actions for this protocol, we'll listen to a story about a relevant emergency from a friend in the district that demonstrates the value in utilizing I Love U Guys protocols and preparations.
Our district storyteller today is Independence High School Principal Jacob Griffin, sharing his story about a blown transformer that caused undetermined electrical hazards outside of the school. 
Here's where the Secure Response comes in. The call sign or the word that staff will use to inform other students and staff) for the protocol is "SECURE." Secure is called when there is a threat or hazard outside of the school building. Whether it's due to violence or criminal activity in the immediate neighborhood, or a dangerous animal in the playground, Secure uses the security of the physical facility to act as protection.
Where possible, classroom activities will continue uninterrupted. Classes being held outside would return to the building and, if possible, continue inside the building. There might be occasions when students expect to be able to leave the building like end of classes, job commitments, etc. Depending on the condition, this may have to be delayed until the area is safe. 
When ordered, staff will:
Bring everyone indoors
Lock outside doors
Address situation with students and staff
Account for students and staff
Continue "business as usual"
When ordered, students will:
Leave school materials behind if required
Await instructions from teacher
Continue "business as usual"
And lastly, here is a takeaway from Jacob Griffin's story:
If there's anything concerning surrounding your school's premises, you may need to enact a protocol.

Contact your administration or local law enforcement if you're concerned with a possible issue, even if it's off of school premises.
For families who'd like to learn more, download our Emergency Reference Checklist and Tips, or browse the I Love U Guys website for more information.
Keep in mind that this is a broad overview of the protocol– more comprehensive training and training documents are available for staff members. Still, the goal is to put everyone on the same page to speak the same, simplified language in an emergency.
And that concludes this week's coverage of the first I Love You Guys. 
Thanks for checking in, stay tuned for more safety and security information, and stay safe.
Read More
September 28, 2022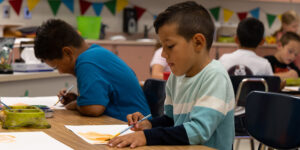 Amanda Elton's Students Primed for Painting Projects
Across our district, students are putting together the building blocks to craft pride-worthy, end-of-the-year creations– but it starts with mastery over simple skills, with innate proficiency of your tools; it all begins with a single stroke. In Amanda Elton's art classes at Amelia Earhart Elementary, students create complexity with a single page of color and tempera paint.
Elton pulled out painted pages, each in a singular tone but with varied textures. 
"Look at all the variance we can get even in one texture," Elton said, "just from the tools and approaches we use when painting." 
She held a green painting with thick, choppy waves repeating across the page, next to another comprised of thin swirls.
"This painter used a brush comb. How does this differ in texture from this other page?"
Students compared textures, variance, and brush strokes on the two paintings and several other shared images. Students immediately started using Elton's academic language– after hearing her model words like "texture" and "tone," they intuitively used the words in their appraisals.
She moved on to their brushes, setting the stage to discuss brush strokes and etiquette. "Brushes are like ballerinas; they tiptoe across the stage. They don't do the boot scoot n' boogie." She swished the brush back and forth across the canvas to model, and students mimed her wrist movements.
Trays of tempera cakes came out alongside plastic cups containing new, fresh-looking brushes. Students started practicing brush strokes for diverse textures by tempering their canvases in a single color. 
Not all students start with such ease, but Amanda Elton does a lot of work to "pretreat the canvas" and prepare students, using whole-group modeling of academic language and etiquette alongside creative metaphors and analogies about painting. She equips students both practically and philosophically. 
Students geared up, taking their task seriously, and it showed– students took to brush to canvas like fish streamlining a river, hands set to feather out along the page. 
Although it's just a single color on a single page, it's just the beginning of their art journey, leading to an art show in November– which is shaping up to be a busy November month for Amanda Elton.
The Utah Art Educator's Conference is coming up on November 5th, and conference creators reached out to art teachers statewide to design art for their conference. Amanda Elton submitted an art piece, and conference runners selected her piece. Elton's art will act as the face for the Art Educator's Conference.
Amanda Elton's students are lucky; her design demonstrates their lessons fully realized, utilizing the primary skills learned in class to compose an art piece.
Congratulations, Amanda Elton, and thank you for being a terrific teacher and artist. We can't wait to see what comes next.
Keep an eye out for posts through November as we show off student work at Amelia Earhart leading up to the art show and in neighboring schools as other art classes start their prospective projects.
Read More
September 27, 2022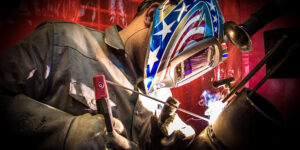 Provo High Alumni Bound for Elite Welding Competition
Former Provo High School alumni made headlines as Utah State University Eastern chose welding student Jordan Packer to represent the United States in the WorldSkills 2022 Welding competition this October in Cleveland, Ohio. This accomplishment marks the highest level of competitive welding one can achieve– and his journey started here.
Always fascinated with welding, Parker restored a tractor with his father, leading him to Provo High School's Welding shop class, led by Kaleb Money, a teacher with a track record for putting students on paths towards academic and occupational achievement. Packer took on competitive welding and hasn't looked back since then.
Packer says he is the first U.S. competitor to contend in over thirty years. "This is a once-in-a-lifetime opportunity and has been my entire life for the last year and a half." The article notes that there have only been 16 WorldSkills welding contestants hailing from the United States since 1991. 
To quote Austin Welch, Assistant Professor of Welding at USU Eastern:
Hard work is an insignificant way to describe the sheer magnitude of what it took for Jordan to get where he is. Jordan's current position as a welding contestant at WorldSkills is more exclusive than any Olympic event. There is one spot, and one spot only. A higher level of competitive welding does not exist.
Parker currently works upwards of ninety hours weekly to prepare for the competition. The WorldSkills criteria are "infinitely stricter than anything we would refer to as an 'industry standard,'" Welch said. To quote Welch:
Some of the criteria are so absurdly strict that it is debatable whether or not it is even possible to satisfy by any welding process or technique that currently exists, yet he is still held accountable for it. I could describe him as the 'Babe Ruth of welding,' but that isn't accurate. The quality of his work is at such an elite level that some of it exceed what even modern automated (robotic) welding equipment is capable of. He's better than that.
We want to congratulate Jordan Packer for reaching the pinnacle of competitive welding, and we're proud to claim him as Provo High School alumni. 
Read More
Get to Know the District
Quick facts about Provo City School District