Provo City School District
Provo City School District Announcements
District News & Events
The latest news from Provo City School District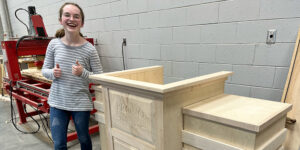 Provo High's Woodworking Sterling Scholar Jessica Redmond
Provo High School's Sterling Scholar, Jessica Redmond, is capable of seeing the finished product from the onset, much like a sculptor through marble– or in Jessica's case, wood.
Jessica received the Sterling Scholar in her category for woodworking, a field that she's loved since a young age. As a youth, her dad used to serve neighbors in their community by fixing fences and decks, and he took Jessica on these community projects. Now that her dad is older, Jessica's taken the mantle, serving her immediate community with her woodworking skills.
Service is Jessica's motivator, and as the Sterling Scholar, she hopes to act as a role model for other girls interested in STEM and CTE. Jessica didn't have other girls in her thirty-person classes to follow behind, admitting that she almost dropped woodworking in her first year. It took her some time to feel comfortable and confident in her abilities in woodworking before cracking into her coursework. "Other girls I've talked to or mentored told me how nice it was to have a female role model in their classes. It was a super validating experience for me."
Jessica's Capstone project is a colossal wooden podium to be unveiled at the Provo High School graduation this year, serving as the footing for this and future generations of Provo High speakers. "I think it's cool to leave a legacy behind, and I hope that I can inspire others."
Constructing a podium from scratch isn't easy. Jessica started by sketching the podium. Then, she worked on architectural drafting software to better design the podium with the necessary specific structural qualities. Jessica then called on her peers to help move the heavier pieces and make some of the cuts. "All that's left is to tidy up the drawer fronts, stain it, and celebrate."
Jessica plans on heading to the University of Utah to Major in Mechanical Engineering. "I would love to advocate for more non-traditional students. I've read a recent article that said only fifteen percent of all engineers are female. I would love to empower that small percentage and build upon it. I think that acting as a STEM role model is important to me, and I will always be an advocate for those in need."
Jessica mentions that she will always love woodworking and knows that it will likely serve her throughout her life. "CTE classes and skills offer a tremendous amount of job security, no matter where I go."
Jessica Redmond, becaria de Sterling de Provo High
La becaria Sterling de Provo High School, Jessica Redmond, es capaz de ver el producto terminado desde el principio, como un escultor a través del mármol- o en el caso de Jessica, la madera.
Jessica recibió el Sterling Scholar en su categoría por trabajar la madera, un campo que ha amado desde una edad temprana. Su padre solía prestar servicios a los vecinos de su comunidad arreglando vallas y cubiertas, y llevó a Jessica a estos proyectos comunitarios cuando era joven. Ahora que su padre es mayor, Jessica ha tomado el relevo, sirviendo a su comunidad inmediata con sus habilidades para trabajar la madera.
El servicio es la motivación de Jessica, y como becaria de Sterling, espera actuar como modelo para otras chicas interesadas en STEM y CTE. Jessica no tenía otras chicas en sus clases de cuarenta personas a las que seguir, admitiendo que casi abandonó la carpintería en su primer año. Le llevó algún tiempo sentirse cómoda y confiada en sus habilidades en el trabajo de la madera antes de lanzarse a los cursos. "Otras chicas con las que hablé o de las que fui mentora me dijeron lo bueno que era tener un modelo femenino en sus clases. Fue una experiencia supervalidante para mí".
El proyecto Capstone de Jessica es un colosal podio de madera que se estrenará en la graduación de Provo High School este año, y que servirá de base para esta y futuras generaciones de oradores de Provo High. "Creo que es genial dejar un legado, y espero poder inspirar a otros".
Construir un podio desde cero no es fácil. Jessica empezó por dibujar el podio. Después, trabajó en un programa de dibujo arquitectónico para diseñar mejor el podio con las cualidades estructurales específicas necesarias. A continuación, Jessica recurrió a sus compañeros para que le ayudaran a mover las piezas más pesadas y a realizar algunos de los cortes. "Sólo queda arreglar los frentes de los cajones, teñirlo y celebrarlo".
Jessica planea ir a la Universidad de Utah para estudiar Ingeniería Mecánica. "Me encantaría abogar por más estudiantes no tradicionales. He leído un artículo reciente que decía que sólo el quince por ciento de todos los ingenieros son mujeres. Me encantaría potenciar ese pequeño porcentaje y aprovecharlo. Creo que actuar como modelo de STEM es importante para mí, y siempre seré una defensora de los necesitados".
Jessica menciona que siempre amará la carpintería y sabe que probablemente le servirá durante toda su vida. "Las clases y habilidades de CTE ofrecen una tremenda seguridad laboral, sin importar a dónde vaya".
Read More
May 20, 2022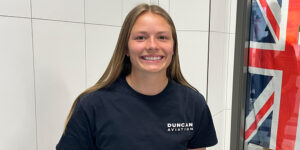 Libby Jaynes: DECA President and International Contestant
It's easy to lose track of your accomplishments in the hustle and bustle of graduation. We want to recognize students, teachers, and staff for their outstanding efforts during this fast-paced and transitory time. We're highlighting extraordinary work from our district's students and employees throughout May with the hope that everyone can appreciate their victories before the summer season.
Today we'd like to celebrate Provo High School student Libby (Liberty) Jaynes, a lacrosse, soccer, and taekwondo athlete, and Provo High School's DECA President. Libby competed at the International DECA Career Development Conference or ICDC, and is a student who strives for excellence in every endeavor.
DECA (An Association of Marketing Students) is a not-for-profit organization preparing high school and college students for marketing, finance, hospitality, and management careers. DECA students put their entrepreneurial knowledge to the test through DECA events, including written components like an exam or a comprehensive business plan and an interactive component with an industry professional serving as a judge. Students who score best at the state level in their respective events move up to the ICDC.
Libby's grown so much with the DECA program, making vast and steady improvements as an entrepreneur each year. Libby took the Business Office Specialist course as a Freshman from Provo High Teacher Chris Eady. Mr. Eady's teaching style was so engaging that she signed up for the only available marketing course in her Sophomore year, and was appointed as their DECA President her Senior year by previous DECA leadership.
As a Sophomore, Libby and teammate Rory Lillico competed at the state DECA competition in Buying and Merchandising Operations Research and took fourth. The two started building steam from their first DECA competition experience and continued to place at their next two state DECA competitions; Libby and Rory took second in Hospitality Team Decision Making Event and third in a Startup Business Plan Event. They teamed up again for the South County Chamber of Commerce Shark Tank Event, pitching a business plan to mock investors, and took home a thousand-dollar check for their business plan.
This year, Libby and teammate Kaitlyn Holman took first in the Financial Team Decision Making Event and third in the Sports and Entertainment Operations Research with teammate Kinley (McKinley) Jorgensen. Libby qualified for the ICDC– few students get to compete on an international level. Although students can compete in two events at State, they can only attend ICDC in one event category. Libby chose to compete in Sports and Entertainment Operations Research, traveling to Atlanta, Georgia.
Libby and Kinley revamped their presentation and started their research fresh. "The theme for this year's Research and Operations portion is The Employee Experience. We're working with a local nonprofit soccer club and are researching the employee experience to create a proposal for the club." The project culminated in an actual business proposal– and it's more in-depth and comprehensive than one might expect, even for a model student.
Libby and her partner crafted a four-phase plan. "Step one is to improve the club's internal communications with a shared app. All players and coaches could better organize practices and games on one platform. Phase two would see one coach interface with Provo Recreation Center to organize fields and soccer resources. Phase three would be to get Provo City memberships for each coach and start ingratiating coaches within the Provo Recreation scene. The final phase would have the club host a tournament."
As a Marketing Specialist, I'm impressed. Students like Libby are special. Luckily, the programs that aid students in reaching their academic and professional goals are accessible to all interested students.
Congratulations to Libby Jaynes and our district's DECA groups!
Libby Jaynes: Presidenta de DECA y concursante internacional
Es fácil perder de vista los logros en el ajetreo de la graduación. Queremos reconocer a los estudiantes, los profesores y el personal por sus esfuerzos sobresalientes durante este tiempo transitorio y acelerado. Estamos destacando el extraordinario trabajo de los estudiantes y empleados de nuestro distrito durante todo el mes de mayo, y esperamos que todos disfruten de sus victorias antes de la temporada de verano.
Hoy queremos celebrar a la estudiante de Provo High School Libby (Liberty) Jaynes, una atleta de lacrosse, fútbol y taekwondo, y la presidenta de DECA de Provo High School. Libby compitió en la Conferencia Internacional de Desarrollo de Carreras DECA o ICDC, y es una estudiante que se esfuerza por la excelencia en cada esfuerzo.
DECA (Asociación de Estudiantes de Marketing) es una organización sin ánimo de lucro que prepara a los estudiantes de secundaria y universitarios para las carreras de marketing, finanzas, hostelería y gestión. Los estudiantes de DECA ponen a prueba sus conocimientos empresariales a través de los eventos de DECA, que incluyen componentes escritos como un examen o un plan de negocio completo y un componente interactivo con un profesional de la industria que actúa como juez. Los estudiantes que obtienen la mejor puntuación a nivel estatal en sus respectivos eventos pasan al CIDC.
Libby ha crecido mucho con el programa DECA, haciendo grandes y constantes mejoras como empresaria cada año. Libby tomó el curso de Especialista en Oficina de Negocios como un estudiante de primer año de Provo High profesor Chris Eady. El estilo de enseñanza del Sr. Eady era tan atractivo que ella se inscribió en el único curso de marketing disponible en su segundo año, y fue nombrada como su presidente de DECA su último año por el liderazgo anterior de DECA.
Como estudiante de segundo año, Libby y su compañero de equipo Rory Lillico compitieron en la competición estatal de DECA en Investigación de Operaciones de Compra y Comercialización y quedaron en cuarto lugar. Los dos comenzaron a construir el vapor de su primera experiencia de la competencia DECA y continuó para colocar en sus próximas dos competiciones estatales DECA; Libby y Rory tomó el segundo lugar en la hospitalidad equipo de toma de decisiones de eventos y el tercero en un evento de plan de negocios de inicio. Volvieron a formar un equipo para el evento Shark Tank de la Cámara de Comercio del Condado Sur, presentando un plan de negocios a inversores simulados, y se llevaron a casa un cheque de mil dólares por su plan de negocios.
Este año, Libby y su compañera de equipo Kaitlyn Holman obtuvieron el tercer puesto en el evento de toma de decisiones en equipos financieros y en la investigación de operaciones deportivas y de entretenimiento con su compañera de equipo Kinley (McKinley) Jorgensen. Libby se clasificó para el CIDC – pocos estudiantes llegan a competir a nivel internacional. Aunque los estudiantes pueden competir en dos eventos en el Estado, sólo pueden asistir al CIDC en una categoría de evento. Libby eligió competir en Investigación de Operaciones Deportivas y de Entretenimiento, viajando a Atlanta, Georgia.
Libby y Kinley renovaron su presentación y empezaron de nuevo su investigación. "El tema de la parte de Investigación y Operaciones de este año es La experiencia del empleado. Estamos trabajando con un club de fútbol local sin ánimo de lucro y estamos investigando la experiencia de los empleados para crear una propuesta para el club". El proyecto culminó con una propuesta empresarial real, y es más profunda y completa de lo que cabría esperar, incluso para un estudiante modelo.
Libby y su compañera elaboraron un plan en cuatro fases. "El primer paso es mejorar las comunicaciones internas del club con una aplicación compartida. Todos los jugadores y entrenadores podrían organizar mejor los entrenamientos y los partidos en una sola plataforma. La segunda fase consistiría en que un entrenador se pusiera en contacto con el Centro Recreativo de Provo para organizar los campos y los recursos de fútbol. La tercera fase sería conseguir membresías de Provo City para cada entrenador y comenzar a congraciarse con los entrenadores dentro de la escena de Provo Recreation. La fase final consistiría en que el club organizara un torneo".
Como especialista en marketing, estoy impresionada. Los estudiantes como Libby son especiales. Por suerte, los programas que ayudan a los estudiantes a alcanzar sus objetivos académicos y profesionales son accesibles para todos los estudiantes interesados.
¡Enhorabuena a Libby Jaynes y a los grupos DECA de nuestro distrito!
Read More
May 19, 2022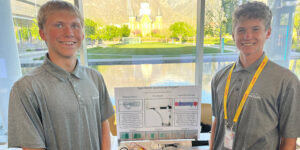 Provo CAPS Spring 2022 Showcase
For the past semester, high school students in the Provo CAPS program made authentic digital designs, software, marketing plans, and engineering projects for local businesses. The CAPS showcase hosted at Nu Skin is their night to share their work, reflect on what they've learned, and display their hard-earned projects.
The goal of the Provo Center for Advanced Professional Studies (CAPS) program, as stated on the Provo CAPS website, is for "students [to solve] real problems, with real tools used by real professionals, being mentored by real employers, leading to real contributions in the professional arena."
New and returning students worked on a gamut of projects according to the CAPS strands: Digital Design and Software Development, Business, Marketing, and Entrepreneurship, Engineering and Industrial Design, and Medicine and Health Science. In each case, students conducted research and experimentation according to their strand, organized meetings, managed workflows, and interfaced with real professionals. Students took on challenges like perfecting online advertisements, improving client's user experiences by developing user-friendly sites, creating promotional videos, PSAs, social media and marketing assets, and developing engineered products.
"You're not going to get this experience anywhere else," said Seth, one of two students developing a self-cleaning hot tub using heat exchange and filtration techniques. "I liked the freedom to test and revise our ideas while still delivering a product according to our client's feedback and standards." "It's hands-on, fun science," continued Seth's partner, Clark. The two recounted difficulties in managing challenges that crop up when creating authentic products, including time to order parts and developing controlled tests to determine the validity of their blueprint. Clark then remarked that "it's not always easy, but it's cool that this stuff we created and learned is applicable. It didn't feel like work. We had a blast."
Provo is a unique space for new thinkers. Provo CAPS students embody the spirit of the Provo CAPS program as a space for growth and revitalization. Moreover, the Provo CAPS program is a fun way for students to springboard their careers, and it's exciting to watch this next generation of entrepreneurs develop the skills and tools required for inevitable leadership. We're so proud of our Provo CAPS students and instructors, and we can't wait to see what they do next.
To learn more about Provo CAPS and to access the student application, go to provocaps.yourcapsnetwork.org.
Special thanks and recognition goes out to Provo CAPS contributing partners, including Provo City, Provo Kindness, Hall Labs, Nu Skin, Sunroc, REAL Curriculum, Crossroads Utah, Utah Valley Chamber of Commerce, Grim Reaper Broadheads, Encircle, and the Provo High ProStart students who provided refreshments for the event.
Presentación de primavera de Provo CAPS 2022
Durante el último semestre, los estudiantes de secundaria del programa CAPS de Provo realizaron auténticos diseños digitales, software, planes de marketing y proyectos de ingeniería para empresas locales. El escaparate de CAPS organizado en Nu Skin es su noche para compartir su trabajo, reflexionar sobre lo que han aprendido, y mostrar sus proyectos duramente ganados.
El objetivo del programa del Centro de Estudios Profesionales Avanzados (CAPS) de Provo, tal y como se indica en la página web del CAPS de Provo, es que "los estudiantes [resuelvan] problemas reales, con herramientas reales utilizadas por profesionales reales, bajo la tutela de empleadores reales, que conduzcan a contribuciones reales en el ámbito profesional".
Los estudiantes nuevos y los que regresan trabajaron en una gama de proyectos de acuerdo con los capítulos del CAPS: Diseño digital y desarrollo de software, Empresa, marketing e iniciativa empresarial, Ingeniería y diseño industrial, y Medicina y ciencias de la salud. En cada caso, los estudiantes llevaron a cabo investigaciones y experimentos de acuerdo con su vertiente, organizaron reuniones, gestionaron flujos de trabajo y se relacionaron con profesionales reales. Los estudiantes se enfrentaron a retos como el perfeccionamiento de anuncios en línea, la mejora de las experiencias de los usuarios de los clientes mediante el desarrollo de sitios fáciles de usar, la creación de vídeos promocionales, anuncios de servicio público, medios sociales y activos de marketing, y el desarrollo de productos de ingeniería.
"Esta experiencia no la vas a tener en ningún otro sitio", dijo Seth, uno de los dos estudiantes que desarrollaron una bañera de hidromasaje autolimpiable mediante técnicas de intercambio de calor y filtración. "Me gustó la libertad de probar y revisar nuestras ideas sin dejar de entregar un producto de acuerdo con los comentarios y las normas de nuestro cliente". "Es una ciencia práctica y divertida", continuó el socio de Seth, Clark. Los dos relataron las dificultades para gestionar los retos que surgen al crear productos auténticos, como el tiempo para pedir las piezas y el desarrollo de pruebas controladas para determinar la validez de su proyecto. Clark comentó entonces que "no siempre es fácil, pero es genial que esto que hemos creado y aprendido sea aplicable. No nos pareció un trabajo. Nos lo pasamos en grande".
Provo es un espacio único para los nuevos pensadores. Los estudiantes de Provo CAPS encarnan el espíritu del programa Provo CAPS como un espacio de crecimiento y revitalización. Además, el programa Provo CAPS es una forma divertida para que los estudiantes hagan un trampolín en sus carreras, y es emocionante ver cómo esta próxima generación de emprendedores desarrolla las habilidades y herramientas necesarias para un liderazgo inevitable. Estamos muy orgullosos de nuestros estudiantes e instructores de Provo CAPS, y no podemos esperar a ver lo que hacen después.
Para saber más sobre Provo CAPS y acceder a la solicitud de los estudiantes, dirígete a provocaps.yourcapsnetwork.org.
Un agradecimiento especial y reconocimiento a los socios contribuyentes de Provo CAPS, incluyendo Provo City, Provo Kindness, Hall Labs, Nu Skin, Sunroc, REAL Curriculum, Crossroads Utah, Utah Valley Chamber of Commerce, Grim Reaper Broadheads, Encircle, y los estudiantes de ProStart de Provo High que proporcionaron refrescos para el evento.
Read More
May 18, 2022
Get to Know the District
Quick facts about Provo City School District