Last modified: September 21, 2023
Welcome to Vision Services
How to Refer a Student for Visual Assessment
Download and fill out the Vision Referral Form. You can print the form and fill it out by hand, or you can open it in Acrobat Reader and fill it out on your computer.
Email the form and the Ophthalmologist report to the Vision Specialist that serves your school. See contact information below. Or you can take a printed copy of each to the vision specialists office (room 142) at Provo Peaks Elementary.
How Does a Student Qualify For Vision Services?
The Special Education Rules from The State Board of Education, page 55, states:
"An impairment in vision that, even with correction, adversely affects a student's educational performance. The term includes both partial sight and blindness that adversely affects a student's educational performance."
The Utah Schools for the Deaf and Blind (USDB) states that eligibility for the visually impaired child in the following way:
The child must have a visual acuity of 20/70 or worse in the better eye after correction and/or less than 20 degrees field vision as measured by a licensed eye specialist. If measured vision is better than 20/70 acuity and 30 degree field vision, there must be a chronic eye condition or functional loss of vision identified by a qualified specialist that does not allow the student to function well without special modification in programs of the public schools.
Vision impairment includes cortical vision impairment (the eye is normal but the brain does not process what the eye is seeing) but NOT visual perception problems.
What is a Vision Itinerant or Vision Specialist
A vision itinerant, or a teacher of the visually impaired and blind, is a credentialed teacher who holds a specialist endorsement in vision impairment in addition to having a standard teaching college degree. A vision itinerant is trained to work with visually impaired and blind students ages 3-21.
What Does a Vision Itinerant Do?
Provides Braille instruction to both blind and low vision students, if the latter's vision is degenerative and has been approved by the vision itinerant.
Provides adaptive equipment: Braille materials, large print books, light boxes, magnifiers, computer programs, and other aids to help a visually impaired child function successfully in the classroom.
Consults with classroom teachers and staff regarding student progress and special needs.
Makes necessary adaptations of classroom materials.
Provides direct services to younger or multiply handicapped students so they use their functional vision to the best of their ability.
Attends IEP meetings: develops vision goals and objectives when appropriate. (There are times when it's more appropriate to support classrooms goals.)
Contacts ophthalmologists for updated eye reports on each visually impaired student every three years.
Arranges for Orientation and Mobility services to be given by an O&M instructor.
A vision itinerant does not make any kind of medical diagnosis.
Contact The Vision Specialist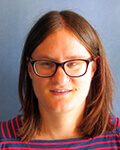 Vision
Brittany Southworth