Last modified: October 19, 2023
Fresh Fruit and Vegetable Program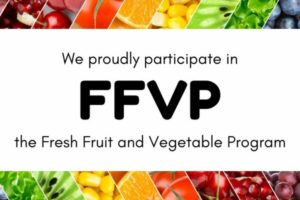 This year, the following elementary schools are excited to participate in the Fresh Fruit and Vegetable Program (FFVP)! 
Amelia Earhart
Franklin
Provo Peaks
Provost
Spring Creek
Sunset View
Timpanogos
This USDA program allows us to serve students a fresh fruit or vegetable snack outside the regular meal service times. It's an excellent opportunity for kids to try new fruits and veggies and learn more about healthy eating. 
In the past, we've served Dragon Fruit, Star Fruit, Rambutan, and many other items the students had never seen or tried.
We look forward to trying more exciting options this school year. We encourage you to ask your students what they tried for their fruit and vegetable snack each week—and maybe try it at home as well.