Last modified: March 1, 2023
Accelerated Learning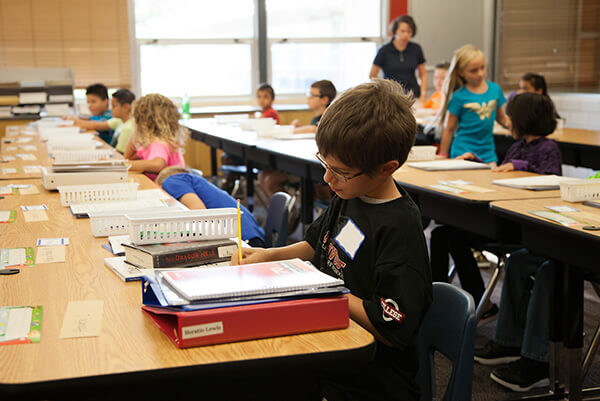 Provo City School District is committed to assessing the educational needs of academically talented students and providing them with a differentiated education designed to help them continually progress academically and to achieve their high academic potential while addressing their unique needs.
All students, including the academically talented, have the right to be engaged and challenged every day. Differentiation of curriculum for academically talented students creates a spillover effect that improves education and the quality of life in the community. The community, including the school system, has a responsibility to help develop the potential of academically talented students.
Available Services
Center for Accelerated Studies (CAS)
The Center for Accelerated Studies is a full-time gifted magnet program for students in grades 4-6 from across the district, which was created to address the unique instructional needs of academically gifted students. It serves about 180 gifted students who have demonstrated high proficiency in mathematics, science, and language arts.
It provides the opportunity for gifted students to move beyond the core curriculum, as they have demonstrated mastery of grade-level curriculum. CAS provides unique enrichment activities that are particularly appropriate for students who learn at a more rapid pace, and desire to delve deeply into curricular topics and work as practitioners in various fields of study. The flexible and more rapid pacing in the CAS classrooms meets the needs of gifted students. The CAS students become a close-knit group, as they have opportunities for many friendships with intellectual and social peers. The students learn to respect the differences, gifts, and achievements of peers.
The gifted magnet classrooms are located at Provo Peaks Elementary School (665 East Center Street) and Sunset View (525 S 1600 W). Students that live within district boundaries and/or are enrolled in Provo District schools will be considered first for placement in this program.
CAS FAQ
CogAT assessments will be administered to all 3rd-grade students by December 2019.  Please contact your child's school for specific test dates.  There will be makeup testing available in both May and July for students unable to take the assessment during the regularly scheduled time.
For questions about the accelerated program, acceptance process, locations, out of district testing, etc. Contact, Judy Rose (Director of Curriculum) judyr@provo.edu.