Last modified: October 28, 2022
Mike Barker's Profile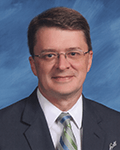 Mr. Barker began his career teaching science and health at Dixon Middle School from 1992-1996. He then moved to Centennial Middle School when it first opened in 1996 and taught 7th grade science and a multimedia class, teaching video editing. He remained at Centennial until 2016, when he moved to Westridge Elementary to serve on the administrative team as the STEM Coordinator. In 2017, he was hired at Wasatch Elementary where he served as Assistant Principal. In 2018, he was named Principal at Lakeview.
Mr. Barker attended BYU, where he received his bachelors degree in Biology/Secondary education and also completed a minor in Portuguese. He has also received a Master of Education – Instructional Technology from Utah State University and a Master of Education – Educational Leadership from Brigham Young University. He received his Educational Administration License in 2015.
Mr. Barker and his wife, Michelle, are the parents of two sons. They were excited to recently add a daughter-in-law to the family. Mrs. Barker is a reading recovery teacher in Alpine District and provides a lot of insight into the minds of developing readers. They are both native to Southern California and enjoy outdoor activities and especially getting to the beach whenever possible.