District STEM Fair Information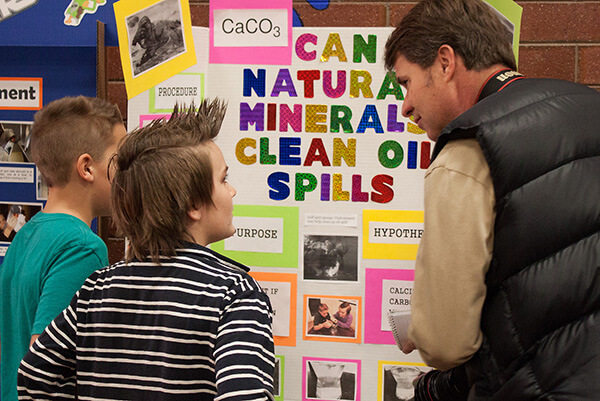 The 2017 Provo City School District STEM Fair was held at Dixon Middle School on Friday, February 17th, 2017.
Students from each school throughout the district have qualified to present their work at the district level and compete for the opportunity to advance to the Central Utah STEM Fair.
Stay tuned for information on next year's STEM fair.
Here are the 2017 winners:
Senior Division (9th – 12th)
1st Place Daniel Pope – Provo High School
Junior Division (7th – 8th)
1st Place Mackey Barry – Dixon Middle School
2nd Place Tadashi Shichida- Centennial Middle School
3rd Place Hailey Giles & Sophia Goodliffe – Centennial Middle School
Honorable Mention Steven Lakes – Centennial Middle School
Elementary Division (5th – 6th)
1st Place Luke Stovall – Provo Peaks Elementary School
1st Place Rory Lillico – Amelia Earhart Elementary School
2nd Place Abigail Rupper – Rock Canyon Elementary School
2nd Place McKinley Jorgensen – Westridge Elementary School
3rd Place Matthew Argyle – CAS Elementary School
3rd Place Caitlyn Macedone – Provost Elementary School
Honorable Mention Meg Taylor – Wasatch Elementary School
Honorable Mention Jace Prusse – Wasatch Elementary School
Special Awards
Utah Valley Earth Forum
Jenna Lott – Centennial Middle School
Kyle Yamada & Neal Smalley – Centennial Middle School
Caitlyn Macedone – Provost Elementary School
Eliza Hill – Edgemont Elementary School
Tomas Isaak – Westridge Elementary School
Infini D Learning Innovation Award
Scott Anderson – Dixon Middle School
Lidia Medina & Leslye Nunez – Dixon Middle School
Joseph Whitney & Dean Salvesen – Rock Canyon Elementary School
US Synthetics PDAC Award
Eliza Rowan – Centennial Middle School