Teri Davis
Adapted Physical Education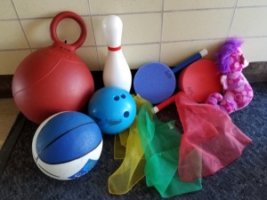 Adapted Physical Education is physical education which has been adapted or modified, so that it is as appropriate for the person with a disability as it is for a person without a disability.-APENS (Adapted Physical Education National Standards)
Federal law mandates that physical education be provided to students with disabilities and defines Physical Education as the development of:
physical and motor skills
fundamental motor skills and patterns (throwing, catching, walking, running, etc)
skills in aquatics, dance, and individual and group games and sports (including intramural and lifetime sports)                                                                                     
The following are the services I provide.
Planning services
Assessment of Individuals /Ecosystems
Prescription/Placement: The IEP
Teaching/Counseling/Coaching
Evaluation of Services
Coordination of Resources and Consulting
Advocacy 
Are you concerned with your student's ability to participate in P.E.?
Contact your school Special Education Facilitator or Special Education Teacher to discuss your options.