Last modified: October 28, 2022
Seth Hansen's Profile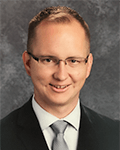 Seth Hansen has worked in education since 2006 when he became a special education and business teacher at Paradigm High School. He then taught special education at Midvale Middle School, until he moved to Provo City School District in 2009. In Provo, Mr. Hansen has taught special education at both Amelia Earhart Elementary School and Timpanogos Elementary School. From 2012-2014, Hansen was the special education facilitator at both Franklin Elementary School and Provo High School. For four years, he was an assistant principal at Provo High School. In 2018, he was named principal of Rock Canyon Elementary.
Mr. Hansen attended Utah Valley University, where he received a Bachelors degree in Accounting. He then received a Masters of Special Education from the University of Utah and an Educational Administration License from Southern Utah University.
Mr. Hansen enjoys spending time in the great outdoors with his wife, Angela, and their 4 boys. He is also a lover of the performing arts and sitting down to a good book.