Last modified: October 28, 2022
Ryan McCarty's Profile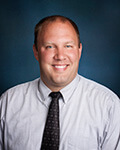 Ryan McCarty is currently in his 3rd year as principal of Amelia Earhart. He holds a Bachelor of Science from BYU with a double major in Psychology and Neuroscience. In addition to this, he also has a post-baccalaureate teaching license in Special Education, and a Master of Education in Educational Leadership from BYU.
Mr. McCarty taught Special Education for 6 years at Oak Springs and Spring Creek Elementary. He then worked as the Special Education Facilitator at Provo High for 2 years. This was followed by a year as Facilitator at Provo Peaks Elementary, and then his current assignment as principal of Amelia Earhart.
Mr. McCarty has a passion for meeting the unique and individual needs of students. His experience in secondary schools has given him a perspective of what skills and attitudes he would like to help develop with his current elementary students. He believes that students need to own their education, and be active and reflective learners. This can happen in a safe and collaborative learning environment where kids feel free to ask questions, think out loud, and learn to persevere in their learning.
Mr. McCarty feels that it is important to get to know each child individually. Not only knowing all of their names, but knowing things about them, and letting each child feel a connection with someone who cares about them and their success. He loves the students, parents, teachers, and staff at Amelia Earhart, and feels it a privilege to work alongside each of them.