Rene Cunningham's Profile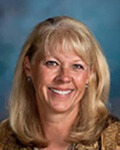 Rene Cunningham has been in the educational setting for over thirty years in the Alpine, Uintah, and Provo School Districts. She has taught school across the grade levels for 23 years, from kindergarten to sixth grade, seventeen of those years at Canyon Crest in Provo School District.
She worked at Timpview High School as an Assistant Principal for five years prior to coming to Wasatch Elementary as an Assistant Principal and then principal. She is excited to come back to Canyon Crest for the 2019-2020 school years as principal!
Rene graduated from BYU with a degrees in Early Childhood Education and Elementary Education, and a Masters of Education in Educational Leadership. She has endorsements in ESL and Gifted and Talented Education.
Rene loves her life as an educator. She is married to David Cunningham, has four sons, and five beautiful grandchildren. They reside in Provo, but spend their weekends at their bison ranch in Ephraim, Utah.