Mark Burge's Profile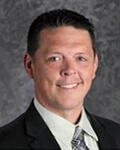 Mark Burge is in his second year as Principal at Provo Peaks Elementary. Previously, her spent seven years as a principal in San Juan School District at Montezuma Creek Elementary and Blanding Elementary. Mr, Burge earned his Bachelors degree from Utah Valley University in 2001 and started teaching 6th grade in Jordan School District. He also taught 4th grade and Physical Education at the same Elementary school. During the 2008-2009 school year, Mr. Burge started his Masters Degree at Brigham Young University where he spent the year doing an administrative internship in several different schools. He then spent two years as a facilitator and teacher at Copperview Elementary in Canyons District.
Mr. Burge and his wife, Amy, have three daughters and one son. His wife currently teaches US history in Nebo School District, and she has always been a great inspiration throughout their 24 years of marriage. Mr. Burge has learned so much from the staff, students, and parents at Provo Peaks Elementary. He believes that the diverse student population at Provo Peaks only enhances academics as well as social skills of all students.