Last modified: October 28, 2022
Kimberli Hawkins' Profile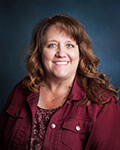 Kimberli Hawkins worked at Franklin Elementary School for 21 years.  She was a 3rd and 4th grade classroom teacher and an Instructional Facilitator prior to becoming the Principal of Franklin Elementary School in 2012. She is excited to join the Westridge team for the 2019-20 school year!
She graduated from Weber State University in 1994 with a degree in Elementary Education.  She has an ESL, Technology, and Keyboarding endorsement.  She received a Masters of Education and Administrative License degree from Southern Utah University.
Kimberli is married to Jeff Hawkins and has two daughters.  She enjoys working with technology, learning new things, reading, cooking, traveling, boating, laughing, and spending time with her family.