Dr. Fidel Montero's Profile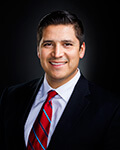 Dr. Montero currently serves as principal of Timpview High School in Provo Utah. Prior to his current experience he served as Chief of Staff at Utah Valley University and principal of Alta High School. He is an author, presenter, and continues to lead school improvement efforts thorough various engagements with K12 and Higher Education. Dr. Montero's areas of emphasis include comprehensive school reform, systems development, and quantitative analysis. He has worked in education settings that include New York City, Los Angels, Miami, and throughout the state of Utah.
Dr. Montero is a first generation high school graduate and immigrant to the United States. He is a proud alumnus of Columbia University, Teachers College where he completed his Doctoral and Masters degrees; and Brigham Young University where he completed his undergraduate studies. He is the father of four witty children and is married to his best friend, thought partner, and life coach.