Last modified: October 28, 2022
Dr. Darren Johnson's Profile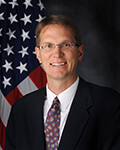 Dr. Darren Johnson is beginning his 5th year in the Provo City School District as the principal at Canyon Crest Elementary School.  Before coming to Utah, he had the opportunity to spend 16 years as a teacher and administrator in the state of Oregon, and another two years as the Principal of Smith Elementary School in Baumholder, Germany on a United States Army base.
Dr. Johnson obtained his Doctorate degree in Education Administration from the University of Idaho and his Masters degree from Northwest Nazarene University in Nampa, Idaho.  He did his undergraduate work at Utah State University, where he also played basketball for the Aggies.
Dr. Johnson is a very visible principal and believes the best part of his job is visiting students in all areas of the school.  He gets to know every student and they all get to know him.  He believes that the best students are happy students, and because of this, he works diligently to create a school where all children are known and appreciated.  This belief has proven to be true in all four schools where he has been principal.
Dr. Johnson and his wife Emily are the parents of four amazing children, who are all pursuing greatness in school and other areas of life.  As a family, they enjoy basketball, traveling, and outdoor activities.