Chris Sorensen's Profile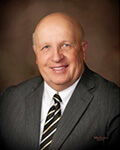 Chris Sorensen is currently enjoying his 40th year in the field of Education as the Principal of Independence High School. Previously he has taught all grades 2nd -7th in Nebo, Provo and Alpine School Districts. He has served as an Elementary Principal for12 years at three different schools and as a secondary principal for 2 years. He was the Director of Elementary Education for 4 years in Nebo School District before being selected Superintendent of Nebo School District from 2004 to 2010. After retiring from Nebo School District in 2010 Mr. Sorensen worked for 6 years at BYU as the Supervisor of Administrative Internships in the McKay School of Education.
Mr. Sorensen was chosen as The Utah State School Superintendent of the Year in 2009 and the Utah PTA Urban School Superintendent of the Year in 2007. He also received the UAESP Community Leader of the Year award in 1995 and the Springville High School Distinguished Alumni Award in 1990. Mr. Sorensen has also been very active in his community. He has served as the Vice Chairman of the South Utah Valley Solid Waste District, a member of the Springville Library Board, member of the Utah County Board of Health, and is current serving his third term as a member of the Springville City Council.
Mr. Sorensen and his wife Karen and the proud parents of 3 children and their spouses and have eight 8 grandchildren. Mr. Sorensen enjoys golfing, gardening and being with his family.