Last modified: November 21, 2022
Our Mission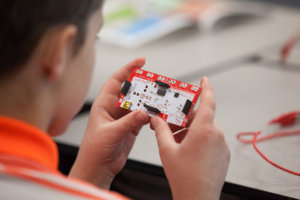 Develop a culture of meaningful innovation to ensure that all students in Provo City School District are future-ready.
Our Vision
We are committed to promoting empowering and equitable learning opportunities for all students that are enhanced by technology in order to best prepare our students for participation in a global and digital society. In order to do this effectively, we support and empower teachers in learning and implementing innovative instructional approaches while providing support and consistency for students and families.
Our Values
All decisions and actions in the Innovative Learning Initiative are taken through the following three lenses:
Equitable Opportunities for Students | Support for Teachers | Consistency for Families
These lenses incorporate the following five core values:
Equity: the distribution of resources to provide equal opportunities based upon the needs of each individual student (USBE)
Transparency: openness, communication, and accountability
Empowerment: the process of becoming stronger and more confident
Support: to promote the interests of, assist, help
Consistency: uniformity in the application of something, typically that which is necessary for the sake of logic, accuracy, or fairness
Our Roles
The Innovative Learning Initiative includes all uses of educational technology throughout the district. As a 1:1 district, it is essential that we use devices effectively to meet learning targets and develop our students' digital literacy.
The Provo Way Innovative Learning Initiative:
Models innovative pedagogical practices, often using technology
Provides professional learning and coaching opportunities for teachers
Supports the strategic use of a learning management system and other district-supported core technologies to enhance student success and school-home communication
Supports students and families in learning and using educational technologies
Communicates student and teacher innovation to the community
Ensures currency and future-thinking through state and national collaboration
Gathers teacher, student, family, community, and administrator input to inform decision-making
Establishes and implements consistent and transparent processes for educational technology requests and approvals
Our core projects include:
Flexible Learning: Empower teachers to strategically use our district-supported core technologies in class to engage students and provide instruction that meets each student's unique learning strengths and needs.
K-12 Computer Science and STEM: Develop teacher and school capacity to promote equitable, positive, and consistent experiences with computer science,  robotics, engineering, STEM Fair, and other STEM opportunities.
Personalized, Competency-based and Self-directed Learning: Promote student engagement and achievement through individualized learning experiences and the development of self-regulation skills.
Digital Citizenship, Literacy, and Wellness: Develop students' skills in managing their use of technology to promote personal wellness, online citizenship, and future-ready skills.