Last modified: March 15, 2021
Parent Accademy COVID-19 Resource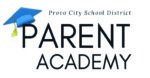 Provo City School District is committed to support parents in actively engaging in their child's learning at school.  The Parent Academy provides parents the opportunity to become informed, learn new skills, and connect with other parents. It consists of workshops, classes, and family activities offered quarterly. Topics include: navigating the school system, homework strategies, internet safety, effective communication, understanding IEPs, mental health, literacy, successful transitions to secondary school, college readiness, and more!!  Follow us on Facebook!
If you have questions about school or community resources contact the family liaisons at parentacademy@provo.edu.
Be sure to check out Parent Academy Facebook and Instagram for information about upcoming events.  Find out more on the Parent Academy webpage.