Chef Mattson Mc Farland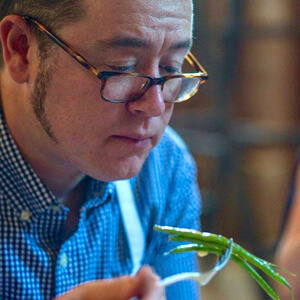 During our annual intensive training in August 2017 we will be welcoming Chef Mattson McFarland!
Chef Mattson has been working as a private chef for four years. He works primarily with private clients in Park City but also works at the resorts, joining the preferred vendors list of Montage Deer Valley in 2015. He has cooked for celebrities, professional athletes, politicians, at weddings, and memorials, and most of all for families. In the last year Chef Mattson has cooked for Dr. Oz, Robert F. Kennedy Jr., Werner Herzog and Hillary Clinton, among others.
Chef Mattson's education has been wide and varied. He is self taught as a chef and says …"he was the little boy sitting on the counter with mom as she cooked dinner, I was fortunate to be raised by a mother who loves food as much as I do. Today, my mom Deb is my sous chef of choice."
Chef Mattson is very passionate about food and talking about food. The business he is building is named Storied Food and he strives toward a global nomadic ancestral cuisine. He truly believe the stories carried in our food have the power to change the world. He actively studies the food ways and cuisines of the world and cooks fluently from many of them. He is active in seed saving, gardening, permaculture and seed-to-table eating. He says "By knowing the plants our food comes from, by knowing the origins of our food and respectfully bringing them to the table, we can make each meal a sacrament of community with the earth. There are few things as powerfully transformative as sitting down to a meal together. I am in love with the idea of family dinner. I believe in the power of food!"
We are thrilled to be partnering with such an amazing Chef and individual as Chef Mattson and we are sure the recipes will be well received by our Provo students, administrators, teachers, and staff alike!