Last modified: June 21, 2022
Camp Preparation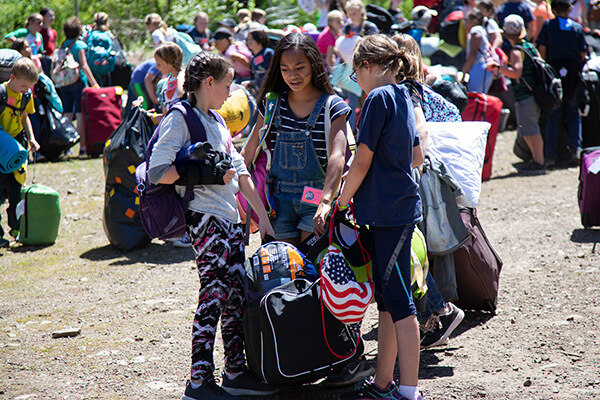 The beautiful, yet primitive, environment of Camp Big Springs offers a unique and rare camping experience. You can help your child make the most of this exciting opportunity by preparing them properly. Here is a list of useful tips:
Read over the material about the camp. Pack all the items listed. Toss in one or two extra shirts and socks from the suggested numbers. We get really dirty! Packing List
Label all your child's belongings. Your child needs to be able to identify his/her luggage and sleeping bag.
Your child will be sleeping in a large military tent. These tents are set on wooden platforms with about 22 students per tent. Assure your child that they will be able to be in a tent with friends. Before leaving for camp, students will be given a chance to sign up for tents with a few friends. One of the best parts of camp is the chance to make new friends, mixing up the tents facilitates this opportunity.
Make sure your child understands that there will be a two-mile hike into camp. Help your child pack a light backpack with their lunch and a water bottle. They will keep this backpack with them on the bus and subsequent hike. The rest of their gear will be delivered directly to camp. We discourage carrying heavy backpacks.
Camp is a great growing experience for all of us. It is only four nights away from home, so take advantage of this chance for your child to learn a bit of independence, get away from technology, enjoy nature, and make new friends.
Our teachers are seasoned professionals at dealing with homesick children. If necessary, talk to your child about homesickness, encouraging them to stay busy and make the best of their experience.
It is important to know that there is not a phone available for calling home and there is no cell service at camp. In case of medical situations, the camp is equipped with an emergency phone.
Each Thursday, students participate in a 3 ½ mile hike to Lightning Ridge. While strenuous, the hike provides students with a great (and well-deserved) sense of accomplishment as they reach the top to look down over our beautiful Provo Valley. Upon returning to camp, students participate in fun water activities and are served an extra special dinner.
Have your child exercise in preparation for camp. Camp will involve hikes, nature walks and many other physical activities.
Students will be expected to attend classes and arts/crafts during the day, no exceptions. Assure your child that they will be given plenty of free time to kick back in their tent, play mushball (softball played with a volleyball), tetherball, shoot baskets, or sit around camp and talk with friends.
Keep in mind that little woodland critters like snacks just as much as your child. Therefore, snacks should be limited and placed in a metal tin. Those pesky critters have been known to chew through a suitcase in search of goodies.
Join us at www.facebook.com/PCSDCampBigSprings. We will be posting pictures and giving updates throughout your child's week at camp.