Last modified: October 28, 2022
About Our Community

"Welcome Home"
Welcome to Provo, Utah! Provo is the third largest city in the state and is located approximately 43 miles south of Salt Lake City. It is situated at the foot of the Wasatch mountain range, and offers incredible vistas and access to outdoor recreational activities, such as hiking, fly fishing, biking, and skiing at nearby Sundance Resort. Beautiful Bridal Veil Falls is located in Provo canyon, and fifteen national parks, monuments, and recreation areas are within a half-day's drive of Provo. The city motto is "Welcome Home".
Provo features superb public school and higher education systems, world-class events such as America's Freedom Festival at Provo, and a new, state-of-the-art community recreation center, Provo offers outstanding living and activities for virtually anyone and any interest.
Provo is also home to a thriving and growing economic and cultural community, with expanding business and transportation facilities. Provo was ranked first in Forbes' 2012 Best Places for Business and Careers survey and second in 2013 and 2014. In 2013, Forbes ranked Provo the third top place to raise a family. And on April 17, 2013, Provo announced that it would be the third metropolitan area in the United States to offer Google Fiber, made possible by Google's purchase of an existing city-owned fiber-optic network.

National Attention/Recognition
Provo City consistently receives media attention both nationally and internationally. Previously named America's Most Livable City, Provo continues to appear on impressive lists for job growth, quality job force and other business accomplishments. The recognition as a quality place to live and to do business continues to draw companies and employees alike to Provo. Among the many notable recognitions are the following:
In 2012, Forbes listed Provo metro's job growth as a robust 3% – third largest in the U.S. Provo also enjoys – by far – the lowest violent crime rate in the U.S. and ranks tenth lowest overall for crime, including property crime.
Sprint listed Provo among the Top Ten Most Productive Cities in America in a productivity study of 313 metropolitan statistical areas.
"Enticing city for new careers", Where to Retire magazine (2009).
Listed in National Geographic Adventure magazine's "Where to live and play" as a cultural hub.
Sperling's Best Places annual survey of America's Most and Least Stressful cities. Provo received the top spot for Least Stressful midsized city in the nation (2004).
Provo listed as TOP 10 in region, TOP 20 in U.S. for economic recovery (Brookings Mountain West; February 2012)
#1 Quality of Life (Bizjournals.com; March, 2009)
#1 metro area for projected percentage growth (Pitney Bowes Software; November 2012)
#1 optimistic about where their community is headed. (Gallup 2011 & 2012)
#1 volunteering (Corporation for National and Community Service; June, 2010 and August 2011)
#1 best for aging (Milken Institute; August 2012)
#2 safest metro (CQ Press; 2012)
#2 the best places to start over (Business Week; June 2009)
#3 for Most Livable City (Forbes.com; April, 2010)
#3 most educated job seekers (Brookings Institute; September 2011)
#4 city where startups are thriving (CNNMoney; November 2012)
#4 best bike paths in the West (Sunset, June 2012)
#4 Happiest city in the US (Money Watch 2012)
#4 for wellbeing (Gallup-Healthways; February, 2010, 2011 and 2012)
#7 Top Performer Best-Performing Cities 2013
#7 fastest growing cities (Census Bureau; March, 2012)
#8 best downtown (Livability.com; October 2012)
#10 for best jobs (Forbes.com; May 2011)
#13 leading high-tech metro (The Atlantic Cities; June 2012)
#23 for collective brainpower (Portfolio.com; December, 2010)

Demographics
A few highlights of Provo's unique and diverse demographic profile:
Provo is the third-largest city in Utah. Population: 112,488 in 2010 compared to 105,258 in 2000 (increase of 6.9%).
The largest racial/ethnic groups in Provo are White (77.5%) followed by Hispanic (15.2%) and Asian (2.4%).
In Provo, 83% of the people speak English and 11% speak Spanish. 34.8% of Provo households have children under the age of 18.
The average household size is 3.24 and the average family size is 3.41.
46.5% of Provo residents are married.
Education level achieved in Provo: 89.4% have completed high school, while 35.7% have a bachelor degree, and 18.7% have advanced or professional degrees.
The cost of living in Provo is 0.9% less than the Utah average and 9.8% less than the national average.

Education Opportunities
Public Education:
Provo City School District was officially organized in 1898. Provo City School District is one of 41 public school districts in Utah, and the District serves approximately 14,200 students.
The District operates two traditional high schools, an alternative high school, two middle schools, thirteen elementary schools, and a web-based school that serves all grade levels. The District continues to have a positive influence on the community by offering both traditional and proven non-traditional education to its students. These non-traditional alternatives include preschool programs, adult high school completion, the largest selection of on-line courses in the state, and concurrent enrollment where students can earn high school and college credits simultaneously. Programs such as advanced placement, special education, music, career technology, elementary dual language, multicultural programs, gifted and talented programs, and many other enrichment programs in all curriculum areas are offered by the District. The District has strong technical and foreign language programs in both traditional and on-line offerings, and offers foreign languages at the elementary school level.
Higher Education:
When considering the size of Provo and the surrounding Provo metro community, the opportunities for higher education are incredibly plentiful:
Brigham Young University is owned and operated by the LDS Church and is the third-largest private university in the United States, with more than 34,000 students. BYU is also the largest employer in Provo city.
Located in nearby Orem, Utah Valley University is a rapidly-growing university – currently the largest university in the state of Utah – with extensive undergraduate and graduate degree programs.
Several smaller, specialized schools of higher learning are located in Provo, including the Rocky Mountain University of Health Professions (offering programs in nursing practice, physical therapy, and health science), Provo College (Associate degrees in career education), and AmeriTech College (health care careers).

Things To Do – Come Have Some Fun!
Provo features a rich abundance of area attractions and fun activities. Every July, Provo is host to America's Freedom Festival, one of the nation's largest 4th of July celebrations. The festival consists of more than 30 events, beginning in mid-June and culminating on Independence Day. The marquee event is The Stadium of Fire Spectacular, which is held in BYU's Cougar Stadium.
Other exciting things available for all ages in Provo:
New Provo Recreation Center – in the spring of 2013, the city opened an enormous, state-of-the-art community center featuring sports and gaming venues, aquatic features and swimming lessons, family-friendly locker rooms, and numerous other facilities for fitness and relaxation.
Sundance Ski Resort – fifteen minutes from Provo, Sundance is a trend setting winter and summer resort owned by actor Robert Redford. During the winter, Sundance is one of the most affordable, less populated ski resorts in Utah.
Seven Peaks Water Park and adjacent Peaks Ice Arena (a hockey venue for the 2002 Winter Olympics).
Deer Creek, Jordanelle, Strawberry reservoirs, and the Provo River provide excellent locations for water activities like fishing and boating. The Provo River was named one of the top ten "blue ribbon" trout streams in the West by Field and Stream Magazine.
Provo City has over 40 parks and more than 33 miles of trails for residents to enjoy.
Covey Center for the Arts – this new, modern venue is the home of the Utah Valley Symphony, and hosts other notable productions in the main performance hall (670 seats). Internationally known artists who have appeared at the Center include Kenny Loggins, George Winston, Stomp, David Lanz, Michael Ballam, The Beach Boys, Ryan Shupe & the Rubberband, The Oak Ridge Boys, Kurt Bestor, Styx, and Foreigner.
Brigham Young University performing arts – experience the talents of outstanding student artists and world-renowned guest artists in performances throughout the year.
Renowned Museums – the BYU Museum of Art has featured world-famous exhibits such as the Masada and Dead Sea Scrolls, the Vatican's Etruscan Exhibit, and many other traveling shows. Other notable museums are BYU's Monte L. Bean museum and the Provo Pioneer museum.
BYU athletic events – the BYU Cougars' intercollegiate athletic teams compete at the highest levels in some of the nation's finest facilities.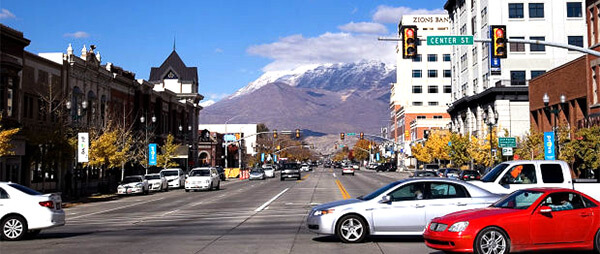 Business Highlights
The high technology companies clustered in the Provo/Orem area are second to none. Many up-and-coming, high-tech companies are quickly carving a niche for themselves in the area. The 40-mile strip between Salt Lake City and Provo has been described in The Economist as "the world's second-biggest swathe of software and computer-engineering firms after California's Silicon Valley."
In May 2012, the newly constructed Utah Valley Convention Center opened its doors to the public. The Eco-Friendly LEED Silver Certified Building offers flexible exhibit and meeting space as well as a first class Grand Ballroom and roof top garden that offers breathtaking views of the Wasatch Mountains. This state-of-the-art facility is the perfect place to hold any meeting or event.
The dramatic transformation of the Provo downtown area continues with the construction of a new building by one of the city's more prominent businesses, Nu Skin. This striking glass and stainless steel structure forms a stylish, modern extension to the original office complex, to which it is connected. And construction is well underway on the new Provo City Temple of the LDS Church, located near the Nu Skin building at the corner of University Avenue and Center Street.
Five local companies are listed on the Inc.com, Inc. 5000 list of the fastest-growing private companies in America.
Many international companies are also located in the area:
Novell – a software corporation specializing in network operating systems and other software solutions.
Nu Skin Enterprises – a marketing firm for skin care products which was founded in 1984.
Morinda Bioactives, formerly Tahitian Noni International – a health and skin care manufacturer.
Nature's Sunshine Products, a company that directly markets encapsulated herbal products, natural vitamins and supplements, and skin care products.
Vivant – formerly known as APX Alarm Security Solutions – is a residential security company with customers throughout the U.S. and Canada.
Ancestry.com – a genealogy and family networking company.
Action Target – a shooting range manufacturer.
Provo businesses have the added benefit of a highly productive, well-educated work force with a strong work ethic.
Provo City is a thriving community that has experienced phenomenal growth and prosperity over the past fifteen years, averaging over five percent per year in job growth.
Over 45% of Provo's 55,000 workforce is between the ages of 20 and 34 years old.
Among the many commercially zoned areas for business are four business centers:
Provo Towne Center Mall (shopping, movie theatres)
Riverwoods business park (shopping, movie theatres, dining, research & professional offices)
East Bay business center (retail, professional offices, light industrial & manufacturing)
Historic Downtown Provo (Utah Valley Convention Center, restaurants, retail, corporate & professional offices)